Community Standards Courses
At the University of Utah, we want students' continued education to be successful and engaging, and we care about the safety and well-being of our campus community. With this in mind, the University of Utah utilizes a series of a short online courses students address critical life skills. As part of our comprehensive health and wellness programs for students, the University of Utah expects and encourages you to complete all courses available to you. Each course is comprised of 2 parts and courses vary in length from 30 minutest to 1.5 hours. Each part may be completed all at once or incrementally over multiple sessions.
To access the courses, click the Community Standards Courses tile in CIS.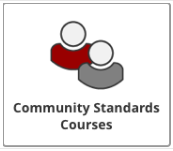 Mandatory Trainings
Sexual Assault Prevention for New Students
This course focuses on sexual assault prevention and bystander intervention. Two versions of the course are provided, one for undergraduate students and one for graduate students.
All incoming, degree-seeking students are required to complete the course during their first semester. Courses become available 30 days before the start of the student's first semester.
Incoming students will have a hold placed on their record that will only be removed when they complete Part 1 of this course. If the course is not completed, this hold will prevent students from registering for a second semester.
More information will be sent to their Umail account.
Sexual Assault Prevention Ongoing: Healthy Relationships
This course emphasizes healthy relationship skills, tactics for bystander intervention among close friends, and survivor empathy.
Continuing students are required to complete this course annually. Students will have a hold placed on their record that will only be removed when they complete Part 1 of this course. This hold does not become active until after the course is due.
Students well be assigned courses 30 days before the course is due and the hold becomes active.
More information will be sent to their Umail account
AlcoholEdu
An alcohol abuse prevention course that tailors content to the student's current drinking behaviors. This course is available to new undergraduate first-year and transfer students a month before their first regular semester.
Ongoing training is available to students in their second year.
Mental Well-being
The goal of this course is to equip students with strategies for self-care, taking action to find additional support, recognizing when they or their peers are in distress, and supporting others. This course is available to all new students in October of their first year.
Diversity, Equity & Inclusion
This course focuses on expanding students' understanding of identity, power, privilege, and oppression as well as creating a culture of respect. This course is available to incoming undergraduate students in January of their first year.
Prescription Drug Abuse Prevention
This course covers the science of addiction and provides information about the proper use, storage, and disposal of prescription drugs. It prepares students to identify signs of abuse and equips learners with tactics for refusal and bystander intervention. This course is available to all new students in March of their first year.
Information
Assignments


iconicon
Students will receive an invitation in their University email (Umail) when courses are assigned to them.
New students will receive assignments no more than 30 days before the start of their first semester.
Completing
Courses
icon
To access the classes, login to CIS and click on the "Community Standards Courses" tile.
The tile will remain on your CIS page even after you have completed the course in case you wish to refer back to them for resources.
Technical
Tips
icon
You will need internet access and audio capabilities.
To avoid technical issues, please use only major web browsers (e.g., Firefox, Safari, Google Chrome) released within the previous two years.
Surveys & Confidentiality
icon
The course may include surveys to help personalize your experience and measure students' attitudes and behaviors. All survey responses are confidential; the university will only receive information about the student body as a whole and will never see individual students' answers.
Support
Accommodations
icon
The University of Utah seeks to provide equal access to its programs, services, and activities for people with disabilities. If you need accommodations to access the online programs, please contact the Office of the Dean of Students at 801-581-7066 or deanofstudents@utah.edu and we will make arrangements for you.
Waiver
icon
We understand that the content of the Sexual Assault Prevention course may be psychologically or emotionally triggering for some students. In those circumstances, students may complete a Course Waiver Request.
Upon submitting the request, students will be directed to pertinent policies and resources and a Victim Survivor Advocate will reach out to the student to provide additional information.